Jackson Hill had his summer planned out. He was working out, getting ready for his senior football season at Lee's Summit High School. The 17-year-old had a well-paying job with a moving company that helped him bulk up for his starting spot as an outside linebacker. He had just finished football camp and was looking forward to a little time off.
Instead, he spent the summer fighting for his life.
After running some errands on June 13, Jackson had some time to kill before heading to Holden for a friend's going-away party. He decided to go visit his sister, Tabitha, in Warrensburg and headed that direction on Missouri Route 13.
Jackson topped a hill speeding on his motorcycle and found a car stopped in the middle of the road in front of him waiting to turn. He tried to swerve left to avoid the car, but clipped its left rear fender and veered directly into the path of an oncoming car, striking it at full speed.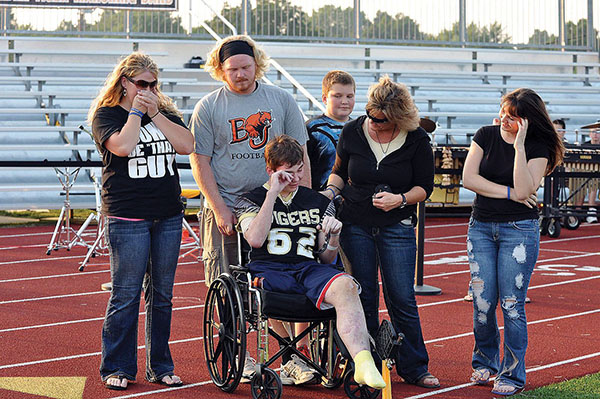 "I remember laying there, and I was mainly worried about my bike and how bad it was hurt," Jackson later recalled. "'Cause I didn't realize near how bad everything was."
"I was worried, you know that I probably had some road rash. I was worried about getting back up, that my dad was going to be mad and whatnot. But I was definitely thinking that I was going to get back up and be on my way."
But Jackson had suffered massive trauma. His right leg was amputated below the knee. Every bone in both legs was severely broken. His left ankle and foot were shattered. He had a broken pelvis and a massive, deep laceration extending from his hip nearly to his groin.
Jackson lay crumpled and broken on the centerline of the highway.
Traffic going both directions immediately stopped and motorists called 911. Two women who had witnessed the accident went to Jackson's side to comfort him.
He has no memory of the events that followed.
"He kept asking, 'Pray for me, pray for me out loud," Wendy Fisher, one of the women who comforted Jackson told the Warrensburg Daily Star-Journal. "I just prayed and prayed with him, out loud, so he could hear me."
The 911 call was routed to Johnson County Ambulance District. JCAD Captain Cole Harris said that because of information bystanders gave dispatchers and the EMS crews, they knew the situation was serious. They called and activated LifeFlight Eagle long before even arriving at the scene.
The call went into LifeFlight Eagle's communications center, which immediately dispatched its Lafayette County-based helicopter and medical crew. The team was airborne and on its way less than six minutes later — even before the ground EMS crews had arrived at the scene of the accident south of Warrensburg.
"We try not to activate helicopters when they're not needed," said Harris. "But anytime we can call them early like that to get them there quick — I think that was the key to Jackson's survival."
"From where the scene was we're probably a solid 40 or 45 minutes from a trauma center. It would have been a pretty lengthy ground transport."
Because of the early activation, LifeFlight Eagle's medical crew landed only a few minutes after the ambulance arrived.
LifeFlight Eagle Flight Paramedic Jeanne Schmick and Flight Nurse Robyn Cado immediately got to work on Jackson while being briefed by the ground EMS crew.
"I just put my hand on his forehead and I said 'Son, I'm gonna give you some medicine to help you rest and sleep, and I want you to have sweet dreams." Schmick said. "His eyes popped open, and he said 'Pray for me.' And I just about fell over. It was like 'okay, I can do that.' We had a very quick prayer while I drew up medication and I gave him the medicine to put him to sleep."
With the JCAD team's help, Schmick and Cado packaged Jackson and loaded him into the aircraft, which still had its engine and rotors turning.
Once onboard and racing toward Research Medical Center's Level 1 Trauma Center, the medical crew's focus became pumping as much fluid into Jackson as possible to compensate for blood loss.
Schmick and Cado contacted the Research trauma center and informed them that they were inbound with a massive trauma with amputation and that they would be hot-offloading with rotors still turning. They requested as much help on the helipad as possible. They also informed the trauma center that they would need blood on arrival.
As a result of their in-flight communication, the trauma team was ready and waiting alongside the helipad when they landed. They were able to immediately begin assessing Jackson's condition and begin blood transfusions.
Shortly after Jackson's entire family arrived at the hospital they were given the grim news by a trauma surgeon: Jackson had a 20 percent chance of living through the night. He explained that Jackson's injuries were such that people just don't recover from them.
According to his family, Jackson was given 69 units of blood the first night alone — enough to replace his entire blood supply several times.
"Through the night, I kept asking them for something good," said Susan Hill, Jackson's mother. "Just something. Give me SOMETHING to hang on to. And they said 'we can't.' They said the only thing good they had to tell me is that we're not going backwards. 'If we do go backwards, it's going to happen fast."
She never stopped believing he would live.
"The Lord has too many miracles already in place," Susan said. "I was just thinking how did the Lord have those people there at the scene to help him, for LifeFlight to get there so fast, the people there talking to him, keeping him awake…there were just too many things there already in place. I just kept thinking why would the Lord waste those miracles? He's gonna live. He's gonna live."
Susan said that the family lost track of time through the night.
However, she distinctly remembers what Jackson's sister Tabitha said later as light began coming in the hospital windows.
"She looked at me and she said, 'I believe it's morning. I believe he beat the odds. We made it, Mom!"
The first hurdle was behind them, but a long journey would ensue. Jackson remained unconscious or sedated for a month. It would be nearly three months of emotional swings as he improved and then suffered life-threatening setbacks before fully recovering.
The day after his accident, Tabitha and his older sister Samantha set up a "Keep Strong Jackson" Facebook page to keep family and friends up to date on Jackson's condition. His sisters detailed every day, posting the good news and bad.
Susan said the ordeal was difficult for the entire family, and that it was very much therapeutic for her daughters to write the posts.
His sisters detailed the numerous surgeries and procedures Jackson endured, including several gradual amputations before his entire right leg was finally removed at the hip socket in August. He endured serious infections. He had so many blood transfusions — at least 108 units all together — that his body developed life-threatening antibodies that were attacking his own blood.
As the Facebook following grew, so did the support in the community. Numerous organizations held fundraisers. The Hills' church, Abundant Life Baptist in Lee's Summit, delivered meals to the family for more than three months. Friends took Jackson's 12 year-old brother, Isaac, on errands just to get him out of the hospital — out to eat, to get school supplies or a haircut.
Jackson's request to "Pray Out Loud" became its own sensation, sparking T-shirts, wristbands and more. Numerous posts on Facebook mentioned how inspirational the ordeal had been, the family's reaction to it and how the community rallied around the family.
Susan couldn't hold back the tears as she talked about the support her family received throughout the ordeal.
"That to me is the amazing part. It's a tragedy for a 17 year-old to lose his leg like this. What's still important to show is that there are still good things that happen. There are still good people that are out there that will support and that will help. Everything is not bad. This is horrible that this has happened to my son, but there is so much good that has come from it."
This fall, Jackson was able to begin taking short trips outside the hospital as part of his therapy. He attended Lee's Summit's first football game of the season.
"They took him out for the coin toss," Susan said, tearing up. "That was unbelievably hard. I just remember standing on the sidelines with the other kids, just standing there crying. Watching his big brother wheel him out on the field in the wheelchair."
Jackson finally left the hospital for good on Oct. 10, nearly four months after his accident.
He undergoes a grueling daily physical therapy regimen to regain his strength and the full use of his shattered left leg. He gets along well with his prosthetic right leg, but his ability to walk without crutches or support will depend on how well his left leg heals.
"If I can get this thing working right," he says gesturing to his heavily scarred left leg, "I'll be running around faster than most people."
Susan and Jackson said the biggest single moment for them came back when he walked for the first time.
For Jackson, it was a step toward his new life and independence.
For his mom, it was being able to hug her son standing upright for the first time.
"Here he is, supposed to be in a grave. And he's standing here on his own — my arms wrapped around him. It was amazing."
Donations / Membership
reded
Clinton couple share their story of cardiac arrest survival As was their custom, Russ and [...]
reded
Speed is essential when treating strokes It was a typical Wednesday evening at work [...]
reded
Flight after heart attack helped save St. Clair County man's life Charles Braithwait was always [...]
reded
Bringing the Creds to the Conversation Hi everyone, my name is Leslie Bonci. I am a registered dietitian, sports dietitian, and owner of Active [...]
reded
Why did LifeFlight Eagle create a Ground Critical Care Transport program? Adverse weather is the single biggest factor that prevents us from being able to [...]
reded
Why did LifeFlight Eagle create a Ground Critical Care Transport program? Adverse weather is the single biggest factor that prevents us from being able to [...]