Lifeflight Eagle Service Area
LifeFlight Eagle serves communities in central and western Missouri and eastern Kansas from our four bases in Chillicothe, Odessa, Harrisonville and Clinton, MO.
Our Bell 407 and Bell 407GX aircraft have an operational radius of 150 nautical miles from each of our bases. However, in practical terms, the vast majority of our flights occur within 50-75 miles of our bases. The below map shows approximately a 30-minute response time including the time it takes us to preflight and launches the helicopter after receiving a request. Flight times from a scene or referring facility to a receiving hospital are much faster.
Our larger Sikorsky S-76 twin-engine helicopter, which is dedicated to the Children's Mercy Critical Care Transport Team, has a larger range and does frequently travel 200 miles or further for specialized neonatal and pediatric interfacility transfers.
LifeFlight Eagle's Core Service Area
For a higher-resolution downloadable PDF, click on the map.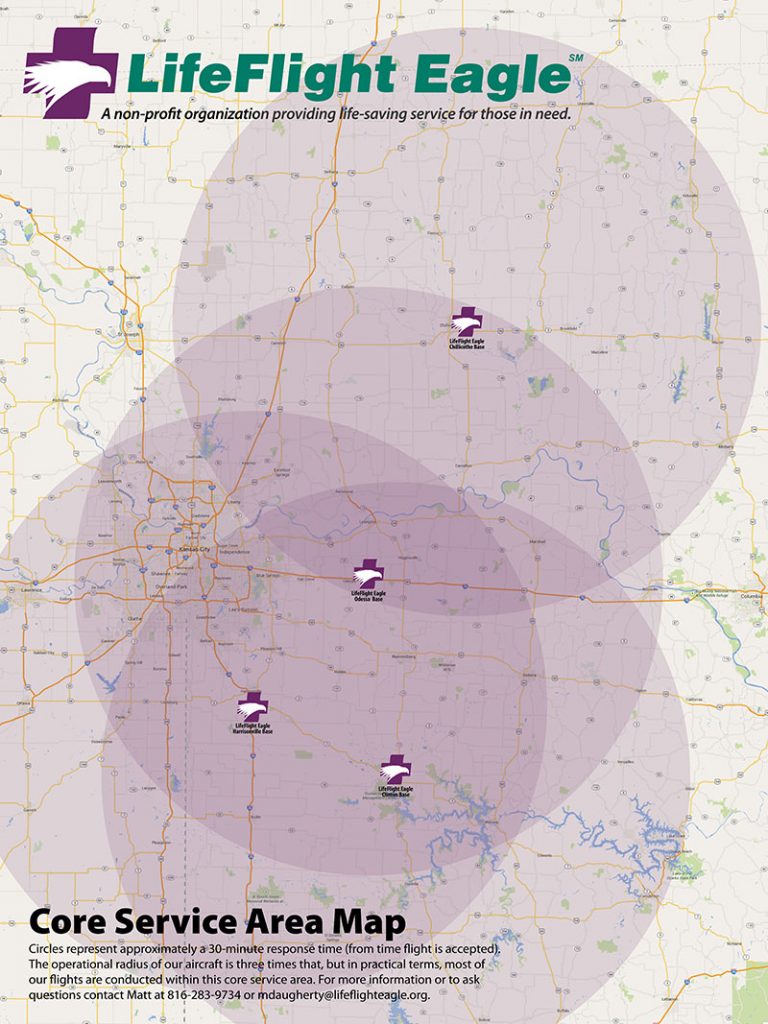 Please note that just because an area is located within LifeFlight Eagle's core service area, does not mean that LifeFlight Eagle's aircraft is the closest or that LifeFlight Eagle will be the service dispatched in case of an emergency. If you have questions about what helicopter ambulance program first responders in your area call first, please contact your local fire department and/or ambulance agency.