On a cold mid-November morning last year, Gayle Hunt finished fixing breakfast for her two kids and went into her bedroom to finish getting ready to head off to work. She sat down and felt an intense pain in her lower abdomen, which began creeping higher and higher into her torso.
She knew something terrible was happening.
"I hollered at both my kids to call 911," she said. "My son always has his phone with him and he called."
By the time her kids reached her, she had already collapsed onto the floor, writhing in pain.
Within minutes an ambulance from Golden Valley Memorial Hospital reached Gayle and rushed her to the hospital. Emergency room doctors were instantly concerned about an otherwise healthy woman in such intense pain. They ordered an immediate abdominal CT scan.
Within moments of seeing preliminary images, they knew Gayle's life was in imminent danger, and doctors immediately activated LifeFlight Eagle.
Gayle had suffered a severe aortic dissection. Her aorta — the largest artery in the body, which takes oxygenated blood from the heart to the rest of the body — had torn in her abdomen.
A small aortic dissection is critical for anyone. Gayle's aorta split from her lower abdomen all the way to her heart and even damaged the carotid artery that sends blood to her brain.
She was bleeding to death internally.
Blood was pouring into her abdominal cavity, but only trickling through arteries in the rest of her body. Soon her brain and organs would be starved of oxygen.
Gayle needed immediate surgery by a cardio-thoracic vascular specialist, and her best chance at survival was to be flown to a larger hospital in Kansas City where she could receive the specialty care she needed.
LifeFlight Eagle has a base in Clinton adjacent to Golden Valley Memorial Hospital.
Within moments of receiving the call, LifeFlight Eagle Flight Nurse Butch LeRoy and Flight Paramedic Ronnie Vogelsmeier were in the ER at Gayle's bedside.
They helped the hospital team find a receiving hospital that could be ready to immediately receive and treat Gayle's critical, special condition. Research Medical Center was the best option at that moment because it had both a cardio-thoracic surgeon and an operating room available immediately.
Gayle didn't have time to waste.
Meanwhile, PilotT. J. McNamara had repositioned LifeFlight Eagle's Bell 407 helicopter to the hospital's landing pad immediately outside the emergency room and waited, rotors turning, ready to take off as soon as Gayle could be loaded.
The trip would take only 25 minutes — less than a third the time it would take to travel by ambulance on the ground.
"I remember them wheeling me out of the hospital to the helicopter in the freezing cold," Gayle said. "I remember saying a little prayer, 'God, please help me make it 25 minutes,' then I don't remember anything else after that."
As the helicopter flew to Kansas City, the medical flight team administered medicine to keep Gayle comfortable, worked to keep her oxygen levels up and pumped fluid into her system as quickly as possible to replace the blood in her arteries and veins until she arrived at the hospital.
She had almost no blood pressure when she arrived at Research Medical Center, where a medical team met the helicopter on the pad, unloaded Gayle and rolled her straight into an operating room.
"We took her straight into the OR," Flight Nurse LeRoy said. "We stopped for just a second so the surgeon could talk to her, then she went straight into surgery.Her time was running out."
The surgical team at Research worked on Gayle for more than seven hours to repair the damage to her artery.
Even after she was out of surgery, Gayle was not out of the woods.
As often happens with major vascular surgery and internal trauma, Gayle suffered a series of strokes and other complications — her kidneys shut down and she went into a coma.
When she woke up seven days later, she had little recollection of what had happened and knew little about the long road to recovery that she faced.
"I was really mad. I could feel these restrictive things all over me." Gayle remained in critical condition in ICU for about another week.
Throughout that time, her friend (and now fiancé) Jon didn't leave her side.
"Slowly, but surely, she came back to us," said Gayle's sister, Minda Phillips.
After having been unconscious for a week, Gayle wasn't quite ready for her loved one's response when she began to emerge.
"I remember thinking 'why is everyone so excited about me blinking my eyes. Seriously! Leave me alone. Give me a break…'"
Gayle's mother, Patricia Hull, laughed. "We were so excited."
About two weeks after the incident, Gayle moved to a regular room at the hospital, and after eight days there, she moved to a rehab floor.
Even then, doctors weren't sure how much damage the strokes had caused, or how much of the damage was reversible.
The strokes had severely damaged much of Gayle's vision, speech, muscular control and sense of touch, among other things. The loss of blood flow had caused tissue damage in her fingers and toes, which nearly had to be amputated.
"I told them you're not gonna cut off my fingers or toes!" she said, laughing as she recalled the conversation. And thus began a long, arduous road to recovery that included rigorous physical therapy and occupational therapy sessions.
"When I first started, I couldn't stand up without two men standing, holding on to me," she said. "I got to where I could use a walker, and now I can walk quite a distance."
Her occupational therapy sessions focused a lot on regaining coordination and visual acuity. She couldn't move her head and her eyes to shift focus from one object to another.She could no longer read because her eyes couldn't track across a page.
Gayle had to re-learn to do things most people take for granted.
"The first shower I took, I remember thinking 'I'm never gonna take another shower again.' It wore me out so much."
Through it all, her family, and her strong faith kept her going.
"My kids are my life," she said. Her son, Aaron, age 18, and daughter, Ariel, 17, are both active in a number of sports and other activities. "I hated not being able to be with them."
She was comforted, though, knowing that her mom was with her kids the whole time.
She took strength from the Bible — especially from a verse in James: "…whenever you face trials of any kind, consider it nothing but joy,"
"I'm not going to say that I'm always able to do that, but I'm trying."
On Jan. 17, after several weeks of therapy, Gayle came home from the hospital.
She took delight in being with her family and being able to attend the second half of her son's basketball season. Her first game back, the team won and players showered her with hugs afterward.
The outpouring of support from her church, coworkers and the community has been overwhelming.
Gayle spent her career helping families in the community as a social worker at Golden Valley Memorial Hospital. She said it has been strange and difficult to have the tables turned.
"Maybe it's God's way of telling me to slow down a little bit. But I'm a social worker. I'm the one who is used to taking care of other people. It's hard to let other people take care of me."
"You just don't realize how many lives you touch until something like this happens," she said. "People I helped years ago have shown up to help me."
Gayle hopes that what she has endured through the last several months has forced people to reconsider their own lives.
"God obviously still has plans for me — otherwise, I wouldn't be here and everything wouldn't have worked out as perfectly as it did."
"Lots of people tell me that they didn't believe or have a relationship with God, and that they rethought that because of what happened. I'm like, 'Okay, God. If this is what it took to get people to know you, then I have to rejoice."
She still travels to Kansas City three times each week for therapy sessions and goes through countless exercises at home daily to continue improvement, which will take months, if not years.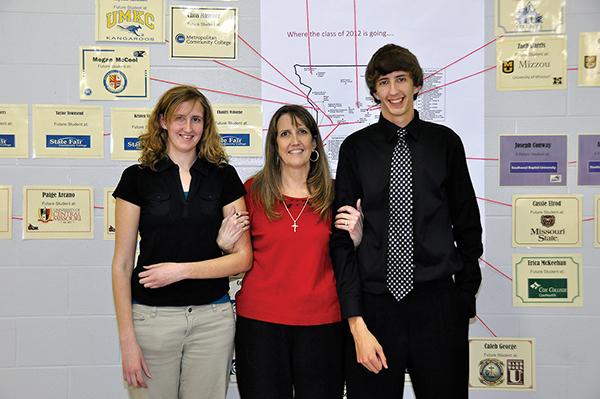 "The biggest hurdle is over. She's gonna have some challenges, and that's okay," said her mom, Patricia.
"God willing, I will make a complete recovery," Gayle said.
One of the highlights of Gayle's path to recovery was walking arm-in-arm to escort her son onto the court for his senior night when he received an award for scoring 1,000 career points.
Her family is grateful to still have her, and for the medical teams that made it possible.
"There was an extremely short time frame to get her to a surgeon in KC. Her odds decreased exponentially with time," Gayle's sister Minda said. She praised the speed of Golden Valley EMS, the Golden Valley ER staff and LifeFlight Eagle for its role in transporting Gayle to the hospital for the definitive care she needed so quickly.
"I just want to thank the people who stepped in to help her get to a surgeon. Thank God. I want everyone to know how much the family appreciates everything they did."
Flight Nurse LeRoy said it was a perfect situation, with all the medical teams working in perfect unison to get Gayle to the hospital and into surgery. "I've never seen someone with as serious of an injury live to tell about it," he said. "God's plan was for her to go up [to Kansas City] and get fixed."
Gayle is grateful as well.
"I praise God and thank Him for giving me some more time on earth, and for the people who helped make that happen."

"There was an extremely short time frame to get her to a surgeon in KC.Her odds decreased exponentially with time.
— MindaPhillips, Gayle's Sister
Donations / Membership
reded
Clinton couple share their story of cardiac arrest survival As was their custom, Russ and [...]
reded
Speed is essential when treating strokes It was a typical Wednesday evening at work [...]
reded
Flight after heart attack helped save St. Clair County man's life Charles Braithwait was always [...]
reded
Bringing the Creds to the Conversation Hi everyone, my name is Leslie Bonci. I am a registered dietitian, sports dietitian, and owner of Active [...]
reded
Why did LifeFlight Eagle create a Ground Critical Care Transport program? Adverse weather is the single biggest factor that prevents us from being able to [...]
reded
Why did LifeFlight Eagle create a Ground Critical Care Transport program? Adverse weather is the single biggest factor that prevents us from being able to [...]