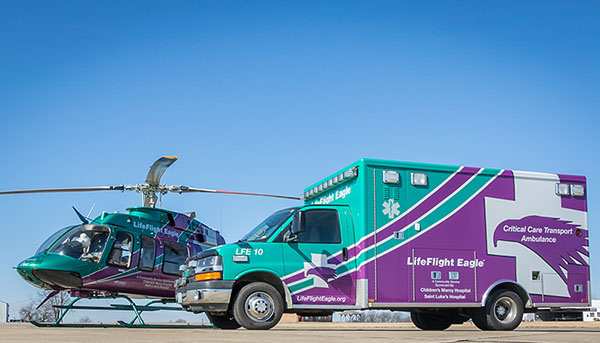 LifeFlight Eagle is expanding its service and adding its first ground critical care ambulance in the Kansas City region.
The ambulance will conduct only interfacility hospital-to-hospital transports, and will initially be used only when the organization's aircraft are unable to fly because of inclement weather.
"Creating a ground transport option helps us fill a critical gap in the service we provide," said Jeff Willhite, LifeFlight Eagle's vice president of program operations. "Our rural hospitals have extremely sick patients they need to get to the city, regardless of what weather conditions might be. Now we can still serve those hospitals and their patients' need for critical care, even if we aren't able to provide the speed of an aircraft."
"It's a win for local EMS, too. It reduces the burden on 911 services, who have to pull an emergency response ambulance off the street to conduct these long transports out of their communities."
The ambulance will be stationed at LifeFlight Eagle's Harrisonville base south of Kansas City, where it will serve rural hospitals as well as satellite hospitals in the immediate Kansas City metro area.
Like its helicopters, LifeFlight Eagle's ground critical care ambulance is staffed by a highly trained critical care flight nurse as well as a highly trained critical care flight paramedic who work together to provide patient care at all times during transport. A third crewmember (an EMT or additional paramedic) drives.
Eventually, LifeFlight Eagle envisions expanding its ground critical care program to full-time operations and adding additional units to serve both rural hospitals and urban hospital systems.
It is also actively working to create a joint partnership in its more remote base regions that would utilize a local EMS agency's ambulance and EMT driver along with LifeFlight Eagle's critical care medical team when weather precludes flying.
"We have these highly trained teams at each of our bases 24/7, and we want to make sure we find a way to make that resource available to the community at all times," Willhite said. "It's about maximizing the positive impact we can have on our communities."
Click here for frequently asked questions and more information about LifeFlight Eagle's ground critical care ambulance.
Donations / Membership
reded
Clinton couple share their story of cardiac arrest survival As was their custom, Russ and [...]
reded
Speed is essential when treating strokes It was a typical Wednesday evening at work [...]
reded
Flight after heart attack helped save St. Clair County man's life Charles Braithwait was always [...]
reded
Bringing the Creds to the Conversation Hi everyone, my name is Leslie Bonci. I am a registered dietitian, sports dietitian, and owner of Active [...]
reded
Why did LifeFlight Eagle create a Ground Critical Care Transport program? Adverse weather is the single biggest factor that prevents us from being able to [...]
reded
Why did LifeFlight Eagle create a Ground Critical Care Transport program? Adverse weather is the single biggest factor that prevents us from being able to [...]