Lifeflight Eagle Team
Our roots date back to 1978 when Saint Joseph Hospital in Kansas City launched the Spirit of Saint Joseph LifeFlight program, which was the fifth civilian helicopter ambulance program in the country.
Roxanne Peek, MBA, FABC
CEO
Roxanne is responsible for the leadership, direction and administration of LifeFlight Eagle. Prior to joining LFE in 2012, she spent more than 20 years in senior clinical and operational leadership roles within an integrated delivery system. Roxanne also serves as Executive Director of the Association of Critical Care Transport, and as a member of several national critical-care transport and clinical quality organizations. Roxanne is also Managing Partner with Fitch & Associates, LLC, an international medical transportation and public safety consulting firm. 
She earned Bachelor of Science in Chemistry from St. Louis University, and her Master's in Business Administration from Andrew Jackson University, and is a Fellow of the Advisory Board Company. 

Christine Zalar, BSN, MA
President
A pioneer in the air-medical industry, Christine Zalar has served as LifeFlight Eagle's President since its inception in 1996. She was the 1988 recipient of the National Flight Nurse Association's Jordan Award in recognition for her original contributions to air medical healthcare. Ms. Zalar played a key role in the development of the Association of Critical Care Transport (ACCT), a leading patient advocacy group, numerous professional organizations that serve and support medical transportation and emergency medical care. She received a Bachelor of Science in Nursing from the St. John College of Cleveland and holds a Masters of Arts degree in Organization Development from William Lyon University.
In addition to serving as President of LifeFlight Eagle, Ms. Zalar is a founding partner at Fitch & Associates, an international medical transportation and public safety consulting firm. 

Joey Araiza, BSN
Vice President of Clinical Resources
Joey Araiza is the Vice President of Clinical Services for LifeFlight eagle. She provides leadership and clinical management for the LifeFlight Eagle medical transport system and is accountable for internal and external clinical aspects of the program. Joey graduated from William Jewell College in 2002, and pursued her goal to become a flight nurse at LifeFlight Eagle by working in an Intensive Care Unit and Emergency Department from 2002-2007. She obtained a Flight Nurse position at LifeFlight Eagle in 2007 and continued to pursue further management opportunities through 2012 when she became the Vice President of Clinical Services. Enhancing patient care and ensuring high-quality Critical Care and Pre-hospital care are her passions.

Jeff Willhite, MBA 
Vice President of Program Operations Vice President of Program Operations
Jeff oversees all non-clinical day-to-day non-clinical operations at LifeFlight Eagle, including working directly with the organization's air operator. Jeff has been in the logistic management business for more than 30 years.  
Jeff has a B.A. in Management from Kentucky Wesleyan College and a Masters in Business Administration from Strayer University in Virginia. He lives in Liberty with his wife, Pam.

Joe Coons 
Director of Safety and Communications
Joe manages LifeFlight Eagle's communication center, which serves 24/7/365 as the organization's nerve center, coordinating communications among 911 dispatch organizations, fire departments, EMS agencies, referring hospitals, and receiving hospitals to ensure rapid, safe patient care. As Director of Safety, Joe works to continually enhance safety within the organization, and coordinates with first responder agencies and hospitals through onsite training to ensure seamless, safe transport of our patients. Joe also serves as a faculty member at the nationally recognized Ambulance Service Manager, Communication Center Manager, and Beyond the Streets programs, and regularly presents at regional and national conferences. Prior to his current role, Joe served as a flight paramedic for LifeFlight Eagle and worked as a ground ambulance paramedic for many years. He lives in rural Buchanan County with his wife, Melissa, and together they have 4 grown children.

Ruby Mehrer, BSN 
Director of Government Relations
Ruby began her air-ambulance career as a Flight Nurse in 1985 at Research Eagle, which later became LifeFlight Eagle. Ruby monitors Missouri and Kansas legislation and regulatory efforts, and participates in local, regional and state-level EMS committees. Prior to her current role, Ruby served as a Flight Nurse for more than 18 years before transitioning into other leadership roles, including Clinical Manager and Director of Business Development. Ruby loves EMS and is a strong advocate of its mission to provide patients with safe, quality and sustainable service. She is the past-president of the Missouri Emergency Medical Services Association, serves as a governor-appointed member of the State Advisory Council on EMS, and has served on the boards of numerous other regional, state and national organizations. Ruby graduated from William Jewell College with a BSN and lives in Liberty with her husband Cliff and other extended family.
Matt Daugherty, MBA
Director of Business Development
Matt works closely with LifeFlight Eagle's community and partner relations, oversees our membership program and leads our fundraising efforts. Matt's most enjoys getting to meet and share the stories of patients we have served, and how our non-profit mission has changed their families' lives. Prior to joining LFE in 2013, Matt worked in community journalism for more than 10 years. He earned his bachelor's degree in journalism and his MBA at the University of Kansas. He lives in Kearney with his wife, son, and twin daughters.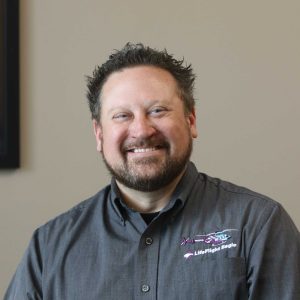 Kyle Tapps, BA, NRP
Base Manager—Clinical Resources
Kyle supervises LifeFlight Eagle's crew members, where he enjoys watching their personal and professional growth. He also manages the organization's scheduling and staffing, and represents LFE as a board member and officer at numerous state and regional committees and organizations. Kyle has worked in fire and EMS since 2004, including firefighting, EMS education, flight paramedicine, and EMS Operations Director. His professional education includes an associates degree in paramedicine from KCK Community College and a bachelor's degree in public administration from Park University. He is also a 2021 graduate of the Ambulance Service Manager Program. Kyle is particularly proud of LifeFlight Eagle's involvement in the communities it serves. A family man, Kyle lives with his wife and daughter in Liberty. He enjoys spending time with his girls, the outdoors, boating, and hunting on his family farm in Northern Missouri.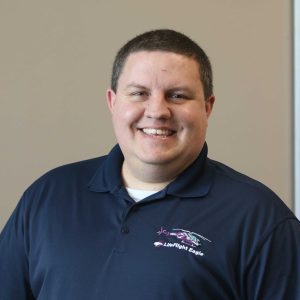 Chuck Palmer, BA, EMT
Base Manager – Operational Resources
Chuck supervises LifeFlight Eagle's crews, and manages supplies, inventory, clinical equipment and facilities. He has been in the EMS industry since 2001, serving various roles as an EMT, Safety Officer, Fleet Coordinator and Base Manger. From his roots in rural Iowa EMS, to a high-volume neonatal/pediatric critical care transport team in the Midwest, to his current role at LifeFlight Eagle, Chuck has always found a way to stay busy with operations and logistics while continuing to give back to the communities and patients he serves.  Chuck resides in Kansas City with his wife and four children.
Gillian Earnest, BSN, RN, CFRN, CEN, NRP, FP-C 
Manager of Clinical Services – Patient Care & Quality Resources
As Clinical Manager, Gillian ensures that patients receive the highest quality of care and attention during their transport. She leads a team of skilled medical professionals and works closely with hospitals and community partners to develop and implement patient care plans that are tailored to each unique situation.
Her experience as a paramedic, nurse, and flight crew member have given her a deep understanding of the challenges patients and caregivers face in emergency situations. She is passionate about developing LifeFlight Eagle's crew members and providing patients with the best possible care.
Outside of work, she enjoys spending time with her family and pursuing outdoor activities. Her love of nature and adventure have given her a strong appreciation for the importance of health and wellness in our daily lives.
Ryan Miles, BSN, RN, CFRN, NRP
Manager of Clinical Services – Educational Resources
Ryan leads LifeFlight Eagle's team of experienced clinicians, where he works closely with the crew members, hospital staff and community partners, ensuring they are provided with the clinical resources and training to ensure optimal patient outcomes. Ryan joined LifeFlight Eagle in 2022, but is a veteran of the air-medical industry. He started as a flight paramedic in Florida in 2002 before returning to school and earning his BSN and continuing in the industry as a flight nurse. Immediately prior to joining LifeFlight Eagle, Ryan spent five years with Children's Mercy Kansas City's Critical Care Transport Team, providing high quality pediatric and neonatal care to children across the nation. Ryan is a native Floridian, but relocated to the Kansas City area with his wife in 2017. He has a daughter that lives in the Kansas City area and a daughter and son who live in Florida.
Ashlee Hollis, BS, NRP
Outreach Education Coordinator
In addition to serving as a critical-care flight paramedic, Ashlee coordinates LifeFlight Eagle's numerous outreach education classes for first responders, firefighters, EMTs, paramedics and nurses. She enjoys providing patient care and is passionate about helping improve patient outcomes through the education we provide to the communities we serve. Prior to joining LFE in 2021, Ashlee worked for ground EMS agencies and taught for local training centers for more than 15 years. She earned her bachelor's degree in crisis and disaster management at the University of Central Missouri. She lives in Concordia, Mo., with her three dogs. 
Cristi Swope, BA
Communications Outreach Coordinator
In addition to serving as a communication specialist, Cristi engages with 911 dispatch and communication centers to ensure seamless communication and coordination among agencies when critically ill and injured patients need LifeFlight Eagle's service. Prior to joining LifeFlight Eagle in 2018, Cristi worked as a 911 dispatcher for more than three years. She also participates as a member of LifeFlight Eagle's Peer Support Team and its Safety Advisory Group. Cristi the mom of three boys, including teenage twins. She enjoys the outdoors, baseball, football and exercising her creativity with crafts.
John Duffy, NRP
Outreach Coordinator
John began his career at LifeFlight Eagle as a flight paramedic in 2010. After several years, he transitioned into an outreach role, where he engages with EMS, Fire and hospital organizations in the rural communities LFE serves. He participates in numerous time critical diagnosis committees with community hospitals. In addition, he helps coordinate public appearances and events and helps organize training. John also serves as a Captain at the Kansas City Fire Department. He lives in Kansas City with his wife and teenage son.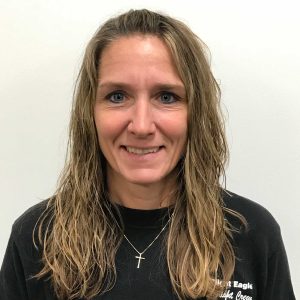 Sheila Hagen, RN, CFRN
Sheila has served as a Flight Nurse at LifeFlight Eagle since 2008. She later added additional responsibilities as an Outreach Coordinator, where she engages with EMS, Fire and hospital organizations in rural communities. Sheila serves on numerous time critical diagnosis committees at community hospitals, and regularly leads case reviews with several organizations. She serves as LifeFlight Eagle's lead TNCC instructor, and teaches numerous other outreach education and safety courses. In addition, she helps coordinate public appearances and events. She lives in rural Missouri with her husband, where they enjoy raising baby goats, among other animals.
Leslee Clark, BSN, CFRN
Clinical Coordinator
As a critical-care nurse, Leslee is passionate about providing care to people during their most vulnerable moments. In addition to serving as a Flight Nurse, Leslee serves as Clinical Coordinator, where she works alongside LifeFlight Eagle's clinical team to ensure that patient care is of the highest quality. When she's not working, Leslee enjoys exploring the world, lake days with family and friends, and spending time with her husband, two dogs & mini pig, Percy.  
Lori Bauer
Office Manager
Lori has been keeping LifeFlight Eagle organized since 1997. She handles a plethora of administrative, logistical and customer service tasks to keep the organization moving. We often refer to Lori as our "glue". Lori lives in Kansas City with her husband and dog, Lucy.