LifeFlight Eagle's History
While much has changed since 1978, the mission remains the same
From its early beginnings as the country's fifth air-medical program and a pioneer helping develop new ways to save lives, LifeFlight Eagle's mission has been to provide rural communities with access to rapid, life-saving critical-care transport.
LifeFlight Eagle's roots began as the Spirit of Saint Joseph Life Flight, which launched in 1978 as the vision of a group of physicians and nuns at Saint Joseph Health Center in Kansas City.
Based on military success in Korea and Vietnam using helicopters to evacuate wounded soldiers from remote battlefields, they knew that rapidly transporting patients to hospitals saved lives. They were confident that the same principle would hold true for trauma and cardiac patients in rural Missouri and Kansas — if they could get patients to a hospital that could provide definitive treatment sooner, lives would be saved and outcomes improved. The Spirit of Saint Joseph Life Flight was approved, and the organization signed a contract with an aviation company to provide the aircraft, pilots and mechanics.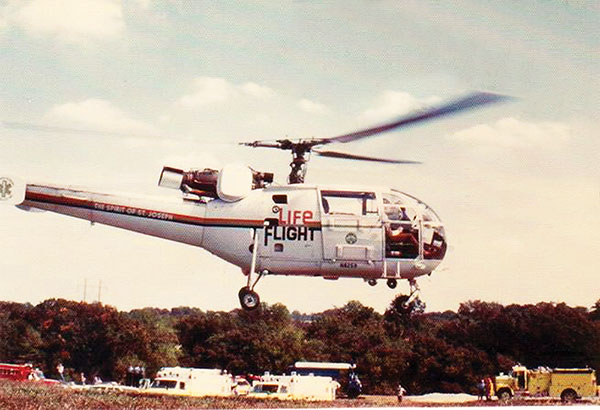 In preparation to launch its operation in the summer of 1978, Life Flight took its aircraft to community hospitals around the region to share how helicopters would revolutionize critical patient movement. On one of these trips to Clinton, Mo., in May 1978, a car and motorcycle collided right in front of the hospital. Even though it was several weeks from the program's planned launch, the flight crew transported the first-ever Life Flight patient to Saint Joseph Health Center, where physicians operated and saved his life.
The program transported thousands of patients in its first few years and saved countless lives. Because of the positive impact that helicopter transport was making on patient outcomes, new medical helicopter programs were being started across the country, and here in Kansas City.
In 1985, Research Medical Center launched its own air-medical program called Research Eagle.
A year later, Saint Luke's Hospital became a partner in the Life Flight program, and the name was changed to the Spirit of Kansas City Life Flight. Shortly thereafter, Children's Mercy Hospital joined the Life Flight program to fly pediatric patients from outlying hospitals. As transport requests increased, a second Life Flight helicopter needed to be added soon thereafter.
"There was a sense of mission and purpose for the crews flying — we could see that helicopter transport was making a difference in patient's lives," said Ruby Mehrer, LifeFlight Eagle's director of government relations, who was one of the original flight nurses and later chief flight nurse at Research Eagle.
"One of my first flights was to Burlington, Kansas," Mehrer remembered. "We flew out to pick up a patient who was in cardiogenic shock. Ten days later, that little old man walked out of the hospital with his wife."
"He wouldn't have made it in an ambulance," she said. "We knew what we were doing was important. We really saved a lot of lives."
The industry was still in its infancy, and both Life Flight and Research Eagle were helping lead the way.
Mehrer noted that much of the focus of the flight programs was on providing education to EMS personnel, nurses, and doctors throughout the region. The benefits of air-medical transport were a key message.
Michel Hall started her career as a flight nurse in 1981 at Spirit of Saint Joseph Life Flight, and served as a flight nurse and aeducation coordinator at LifeFlight Eagle until she retired in 2018. She recalled a lot of the changes the program went through as it matured.
"When I first started, flight nurses flew as the only medical crew member," Hall said. "We were by ourselves with the patient in the back of the helicopter. If we thought we would need help and someone was available, we would grab someone from the hospital, but most of the time we flew alone."
She said it was difficult to manage all the patient's medical needs without a second medical crew member. "We had no ventilators at all, so if we had to intubate a patient, we had to bag them the whole way," she said. "We worked with what was available to us at the time — it's just what we did."
Mehrer remembers difficulty with equipment that was designed for use in hospitals or ambulances. "It was so early on, nothing was designed for helicopters. Everything was either too big, too heavy and cumbersome, or it couldn't handle the natural vibration of the aircraft."
Medical equipment wasn't the only thing primitive by today's standards.
"We used to use a giant wall map with a string and compass to give the pilots heading and distance," said Kevin Seaquist, who began his career as a communications specialist with LifeFlight more than 20 years ago. "Then we used detailed maps of each county to try to identify the landing zone and tell the pilot about it in a way he could understand from the air."
The two programs continued to compete until 1996, when leaders concluded that they could better and more efficiently serve their communities by working together.
The two programs merged, forming LifeFlight Eagle as a non-profit organization. Its offices were moved to the downtown airport in Kansas City, Mo., and the three aircraft were replaced with two larger, twin-engine aircraft that were also based at the airport and staffed by a pilot, flight nurse and flight paramedic.
The changes didn't stop with the merger, though.
LifeFlight Eagle continued to look for ways to better serve its communities. In 2000, LifeFlight Eagle opened a base in Harrisonville, Mo., which allowed it to move one of its aircraft closer to its patients to the south. This reduced the time it took to get the helicopter and medical crew to the patient, and the patient to definitive care. This model proved very successful, and in 2003 LifeFlight Eagle moved its other helicopter to Blue Springs.
In 2004, LifeFlight Eagle purchased two new Bell 407 helicopters and dedicated one of the existing twin-engine aircraft to its partner, Children's Mercy Critical Care Transport Team, and based it at Children's Mercy Hospital.
LifeFlight Eagle continued to explore options that would best serve its patients in the region. Based on time and transport requests, data indicated that patients in north-central Missouri would benefit from an aircraft being positioned closer to their area. Because of that need, LifeFlight Eagle opened a base in Trenton, Mo., in 2005.
Using the same methodology in examining the needs in the southern part of the region, LifeFlight Eagle opened a fifth base in Clinton, Mo., in 2007.
In 2010 years ago, it relocated its Blue Springs aircraft to a new base east of Odessa, Mo., where it would be closer to the patients it served. In 2017, in relocated its Trenton aircraft to a new base in Chillicothe.
The operation has become much more sophisticated since its early days.
LifeFlight Eagle's aircraft now carry state-of-the-art medical equipment, including ventilators, IV infusion pumps, complex monitors that can pace and defibrillate the heart, and other specialty equipment.
Today, LifeFlight Eagle's communications specialists utilize sophisticated computer mapping applications to identify landing zones and transmit GPS coordinates to pilots in flight, and they track all aircraft movements by satellite.
Just as Life Flight and the Research Eagle were leaders that helped pioneer a new industry, LifeFlight Eagle continues to focus on being an industry leader in clinical care, safety, and community service.
LifeFlight Eagle invests heavily in educating its staff to ensure they are on the cutting edge of patient care. Its medical crews are required to achieve high-level critical-care certification, including Critical Care Registered Nurse or Certified Flight Paramedic certifications from national boards. In addition, they go through vigorous, ongoing training and simulations to ensure they are prepared to care for even the rarest cases and most critical patients they transfer. Likewise, all communication specialists hold national certification.
That investment in education doesn't stop with its own staff. LifeFlight Eagle provides free education to hospitals, EMS and first responders throughout its service areas. Its highly experienced staff teach courses on new, cutting edge life-saving techniques as well as continuing education classes to refresh skills. This helps community hospitals and EMS agencies keep their staffs certified, and it saves them money.
LifeFlight Eagle is a strong leader when it comes to safety, which is at the core of everything LifeFlight Eagle does. The organization utilizes a Safety Advisory Group made up of medical crew members, pilots, mechanics, and communication specialists, who work to proactively identify and address safety issues.
"We've become more aware of how human factors and the safety culture play a role in keeping everything we do safe — not just patient missions, but everything," said Joe Coons, LifeFlight Eagle's Director of Safety.
The organization works diligently to promote safety with its community partners and the air-medical industry as a whole. It conducts safety outreach and training with hospitals and first responders, helping coach and educate them about LifeFlight Eagle's safety needs and how they can improve the safety in their own organizations.
LifeFlight Eagle hosts an annual Safety Symposium in Kansas City for air-medical programs across the country and North America, who come together to share ideas and gain insight on how to improve safety at their own organizations.
"We bring people together because safety is not proprietary," Coons said. "We want to facilitate a venue that allows programs to share their learnings and efforts to improve safety with others throughout the entire industry."
As a not-for-profit organization, part of LifeFlight Eagle's mission is to improve the communities it serves. It participates in emergency preparedness drills, dozens of community health fairs each year, and other educational events like mock accident scenes for high schools to promote save driving and discourage distracted and impaired driving.
LifeFlight Eagle continues to look for ways to be a leader and to better serve its communities.
"We're a non-profit organization that's here to provide safe, rapid critical-care transport to the communities we serve," said LifeFlight Eagle CEO Roxanne Peek. "Even as we look back at how much things have changed in more than 35 years since Life Flight was born, that's always been the mission. It will continue to always be the mission. We look forward to continuing to evolve and improve LifeFlight Eagle to serve our communities even better in the future."
LifeFlight Eagle through the years
1978 – Spirit of Saint Joseph Life Flight formally launches with an Aérospatiale Alouette III.
1983 – Life Flight upgrades its helicopter to an Aérospatiale AS-350
1985 – Research Medical Center launches Research Eagle with a Bell 206 helicopter
1986 – Spirit of Saint Joseph Life Flight partners with Saint Luke's Hospital and Children's Mercy Hospital and becomes Spirit of Kansas City Life Flight. Second AS-350 helicopter added to system.
1996 – Spirit of Kansas City Life Flight and Research Eagle merge, forming LifeFlight Eagle as a non-profit organization. Program relocated to downtown airport in Kansas City, Mo. Three helicopters replaced with two BK-117 twin-engine helicopters.
2000 – LifeFlight Eagle relocates one aircraft to Harrisonville, Mo., to be closer to patients
2003 – LifeFlight Eagle relocates its other aircraft to Blue Springs, Mo.
2004 – LifeFlight Eagle purchases new, state of the art Bell 407 helicopters and dedicates one of the BK-117 helicopters exclusively for use by Children's Mercy Critical Care Transport Team
2005 – LifeFlight Eagle opens a new base in Trenton, Mo., and locates a Bell 407 helicopter there
2007 – LifeFlight Eagle opens a new base in Clinton, Mo., and purchases another Bell 407 helicopter
2009 – LifeFlight Eagle equips all aircraft with two sets of Night Vision Goggles
2009 – LifeFlight Eagle purchases a new EC-145 helicopter to replace the Children's Mercy BK-117
2010 – LifeFlight Eagle builds a new base east of Odessa on I-70 and relocates its Blue Springs aircraft and crew there
2014 – LifeFlight Eagle purchases two new Bell 407 GX aircraft as part of its fleet replacement program
2016 – LifeFlight Eagle announces it will relocate its Trenton, Mo., base to Chillicothe, Mo., in 2017, allowing the program to better serve the region
2017 – LifeFlight Eagle relocates its northern base from Trenton to a new facility at the Chillicothe Airport
2019 – LifeFlight Eagle launched ground critical-care transport service serving the Kansas City region and LifeFlight Eagle's southern service area to assist hospitals with interfacility transports when weather conditions precluded its ability to fly patients
2020 – LifeFlight Eagle partnered with the Chillicothe Fire Department to begin offering ground critical-care transport in LifeFlight Eagle's northern service area
2021 – LifeFlight Eagle introduced LaunchLFE, a mobile app that allows hospitals, EMS and 911 dispatch to quickly request critical-care transport, track aircraft in flight, and easily communicate patient information.